About Jaisalmer
Located in Rajasthan, Jaisalmer is one of the most spectacular cities if India. Located on the ridge of yellowish sandstone, the city is also popularly known by the name of the 'Golden City of India' because of the yellow sand and sandstone which are used in most of the architectural works of the city. The name Jaisalmer is kept after is founder Maharawal Jaisal Singh, a Rajput king in 1156 AD. Located amidst the picturesque Thar Desert, the place offers various tourist spots, visiting places and attractive locations such as Jaisalmer Fortress, Patwaon-Ki-Haveli, Bada Bagh, Sam Sand Dunes, Gadisar Lake, Salim Singh-ki Haveli, The Thar Heritage Museum and many other places.


»
Sam Sand Dunes

Visiting Rajasthan is incomplete unless you take the exciting ride of Desert Safari and experience the spectacular beauty of the Great Thar Desert. With scarce vegetation, the place offers endless stretches of sweeping dunes. The best way to get there is of course on camel backs, also known as the ship of the desert. Visiting during the month of February and March is advisable as the whole place turns into a cultural hub with various cultural and traditional festivals that takes place at that time. You can enjoy traditional mouthwatering dishes while experiencing various desert festivals that reflect the rich culture of Rajasthan.
»
Gadisar Lake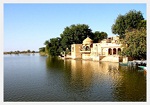 Known as one of the important tourist attractions in Jaisalmer, Rajasthan, the Gadisar Lake is known for its spectacular beauty and historical importance. Built by the first ruler of Jaisalmer, Rao Jaisal, the Gadisar Lake is a manmade reservoir which used to have huge importance in the olden days as it was the only source of water in Jaisalmer city. The Gadisar Lake is surrounded by various Temples, Chattris, Ghats and Shrines which reflects superior architectural craftsmanship.
»
Fort Jaisalmer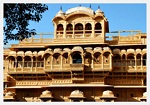 Standing tall with its gigantic structure amidst the great Thar Desert, the Fort Jaisalmer is known as one of the largest forts in the world. Built in 1156 AD, the fort derives its name from the Bhati Rajput ruler Rao Jaisal, the person responsible for building this amazing structure. Built with massive yellow sandstones, the fort is also known by the name of 'Golden Fort' as it changes color to honey gold during sunset. The main places of interest of the fort include Raj Mahal (Royal palace), Jain Temples, Laxminath Temple, 4 massive gateways, Merchant Havelis, etc. Located in the heart of the city, the amazing fort projects unique architectural designs and is considered as one of the most spectacular monuments in the locality.
Contact Us
Samrat Resort
14 Miles, Near Suryagarh Hotel, Sam Road, Jaisalmer, Rajasthan - 345001, India
Mobile : +91-9649181999
E-mail : samratresort@yahoo.com